Online Sales After-Sales Service Policy
Ⅰ.Service Object
    Users who purchase ADO brand products in the online officially authorized store (users who purchase in the offline will be served the same by the offline store ).
Ⅱ.Service Content
    ADO brand commits to providing technology consulting and product maintenance services for users when installing and using ADO brand products.
Ⅲ.After-sale Service Center
Service Center

Service Scope

Contact Details

Service Area

Official Product Data Center

Technical data download

https://www.adoebike.com/pages/download

 

Global

Online Technical Service Center

Manual online service for installation and use

Facebook:www.facebook.com/adoebike

Email: Support@adoebike.com

Global

Call Center

Manual call service for installation and use

DE:+49(0)7251-5098364

EU

CN:+86(0)755-84860602

Others

Maintenance Center

Product Maintenance Service

DE:Bruchsal

DE

UK:London

UK

PL:Warsaw

EU (excl. Germany)

CN:Shenzhen

Outside EU
Ⅳ. Technical After-Sale Service Policy
Ⅰ)Lifelong Technical Support
    ADO brand commits to providing lifetime technical service to ADO users. Any needed ,please contact with us.
Ⅱ)Free Maintenance Service
     Under the warranty ,if product quality issues,ADO brand commits to providing free maintenance service for users, as the follows:
Parts

Warranty Time

Warranty Policy

Structural parts

(1) Frame

10 years

1. Free provide the spare parts and repair video;

2. Customers also can buy the spare parts from the third  party,and ADO will share the cost;

3. If customers can not fix it, please send it back to the official maintenance Center;

4. If still can not be fixed, ADO will provide a new one for free;

 

Note: After the secondary assembly of the drive system and transmission system, secondary debugging is required. Please refer to the following instructions :

1. Refer to "Official Product Data Center" to download the debugging video and debug it.

2. Go to the local maintenance point for help according to the video.

(2)front fork

1 year

(3)seat tube

1 year

(4)handlebar

1 year

(5)aheadset stem

1 year

(6)brake handle

1 year

(7)brake lever

1 year

(8)sprocket crank

1 year

(9)chain wheel

1 year

(10) thumb shifter

1 year

(11)derailleur

1 year

Electric parts

(1)charger

1 year

(2)battery

1 year

(3)motor

1 year

(4)controller

1 year

(5)instrument

1 year

(6)booster

1 year

(7)USB charger

1 year

(8)acceleration handle

1 year

(9)2in1 switch

1 year

(10)head light

1 year

Wearing parts

Handle grip,saddle, pedal, tire, fender, etc., wearing parts, no warranty time, if there is any damage during using, please buy from the official store ( www.adoebike.com);
    Please contact the online service center or call center, and provide the following information, then enjoy the ADO product warranty services:
Purchase platform, including platform/seller's store account etc. ;
Order invoice, including order number/ID/date etc.;
E-mail and shipping address;
Brief explanation of the issue, including description/picture/short video and so on.
Ⅲ)Paid Maintenance Service
    If the ADO product is abnormal because of the following reasons,ADO brand will provide free technology consulting and paid maintenance services for user:
Damage caused by using the unoriginal parts to install the bike ;
The parts or products which is over-due warranty time;
Damage caused by improper using, repairing and maintain;
Damage caused by the nature disaster, manual damage;
Can not provide the evidence like video or picture.;
Damage caused by the revising, adding or reducing the parts;
The parts which are wearing parts, like the coating, inner tube, chain, pedal;
The damage caused by the water inflow;
Ⅳ)Replacement Policy
    The return & replacement policy for products, please refer to the online store policy as the following links:
| | | |
| --- | --- | --- |
| Online Store | Replacement Policy | Remarks |
| Amazon |   |   |
| eBay |   |   |
| Aliexpress | https://www.aliexpress.com/item/1005002511175399.html |   |
| Banggood |   |   |
| Others | Refer to the platforms | |
Ⅴ. After-sale Service Process
Ⅰ)Installation Service Process
   Please follow the below process for product installation server: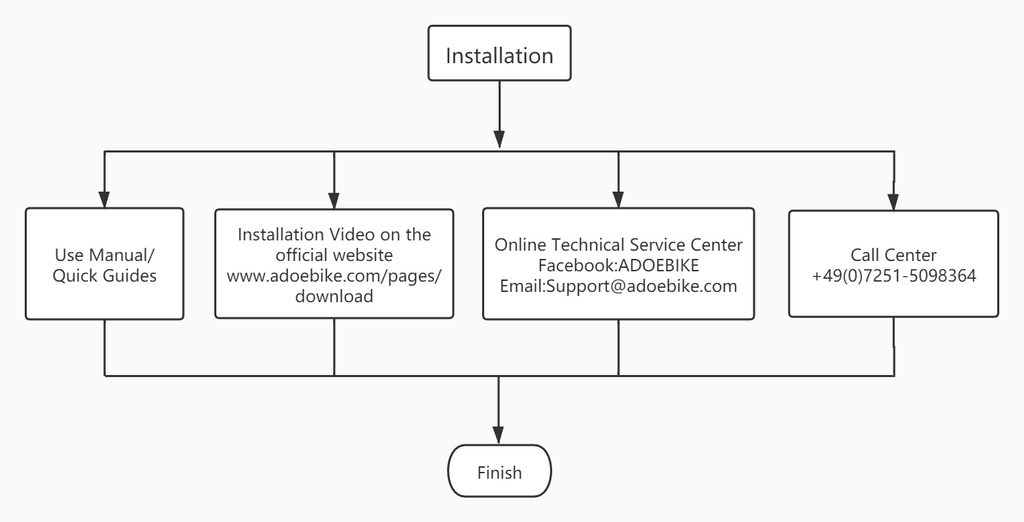 Ⅱ) Maintenance Service Process
   Please contact the "Online Service Centre" or "Call Centre",and follow the below process for maintenance service: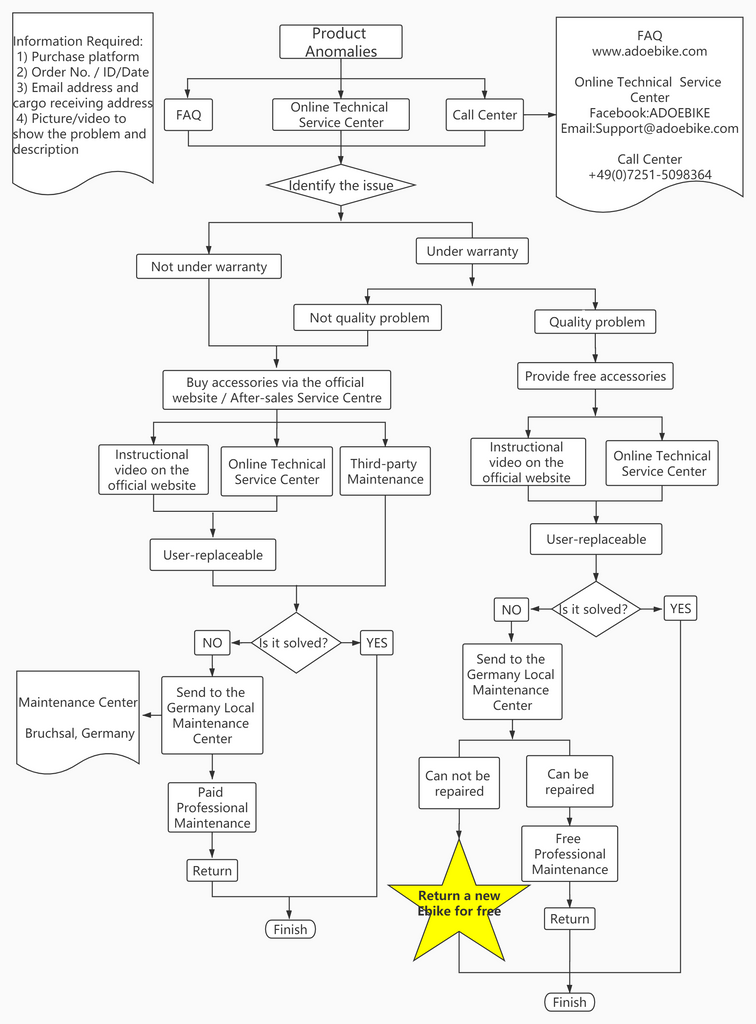 Ⅵ. Other Policy
    If you have any questions about ADO products, we recommend that you contact the official channels and make your right to be protect.
    ADO makes no other warranties, express or implied. All implied warranties including the warranties merchant ability and fitness for a particular purpose are limited in duration to that of the express warranties stated above.